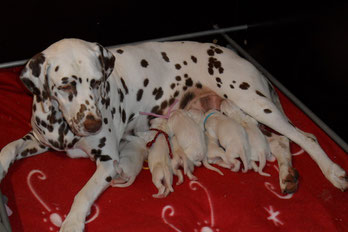 This night Ferina gave birth to 7 strong puppies. 6 males and 1 bitch, all black spotted, will be raised at kennel www.vangeneranova.nl with breeder Annelies Van Vlodrop-Karpinski. Congratulations to Annelies, Ferina and all the future happy owners. 
Ferina is a wonderfull mother and takes very good care of her puppies. 
Jazz is very proud of this litter and sends lots of love and wet kisses to Ferina!